1 Nisan 2021
1806 defa okundu.
MIT Press Direct Klasik, Baskısı Tükenmiş 34 Kitabı Açık Erişime Açtı
MIT Press, dijital kitap platformu MIT Press Direct'te klasik ve daha önce baskısı tükenmiş mimari ve şehir çalışmaları kitaplarının bir dijital koleksiyonu olan MIT Press Open Architecture and Urban Studies'i yayına açtı. Platform üzerinden 34 klasik kitaba ulaşılabiliyor.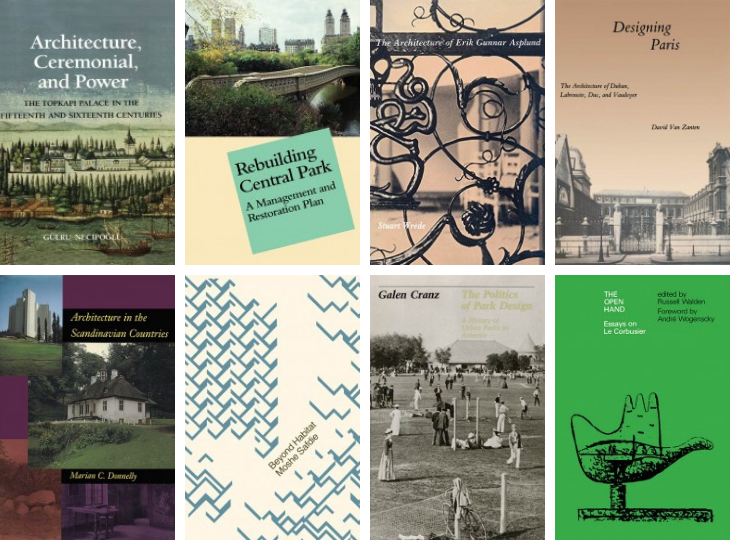 MIT Press Open Architecture and Urban Studies, klasik ve daha önce baskısı tükenmiş mimari ve şehir çalışmaları kitaplarından oluşan kapsamlı dijital bir kitap koleksiyonu.
Kitapların çoğu, okuyucuların eserlerle çağdaş bağlam ve ilgili okumalarla etkileşime girebilecekleri ve açıklamalar ekleyebilecekleri açık erişim platformu PubPub'da da sunulacak.
E-book olarak ücretsiz ulaşılabilen kitaplar arasında, Gülru Necipoğlu'nun 1992 yılında yayınlanan "Architecture, Ceremonial, and Power: Topkapi Palace in the Fifteenth and Sixteenth Centuries" kitabı da bulunuyor.
Diğer kitaplar da şu şekilde:
American Design Ethic: A History of Industrial Design
Arthur J. Pulos
1983
The Politics of Park Design: A History of Urban Parks in America
Galen Cranz
1982
Sotsgorod
The Problem of Building Socialist Cities
N. A. Miliutin, George R. Collins, and William Alex
1975
Architectural Space in Ancient Greece
Constantinos A. Doxiadis
1972
On Leon Battista Alberti
His Literary and Aesthetic Theories
Mark Jarzombek
1990
Possible Palladian Villas
(Plus a Few Instructively Impossible Ones)
Richard Freedman and George L. Hersey
1992
Modernity and Housing
Peter G. Rowe
1993
The Open Hand
Essays on Le Corbusier
Russell Walden
1977
The Harvard Jerusalem Studio
Urban Designs for the Holy City
Moshe Safdie
1987
Orthogonal Town Planning in Antiquity
Ferdinando Castagnoli
1967
Beyond Habitat
Moshe Safdie
1970
The Education of the Architect
Historiography, Urbanism, and the Growth of Architectural Knowledge
Martha Pollak
1997
The Dream of the Factory-Made House
Walter Gropius and Konrad Wachsmann
Gilbert Herbert
1984
Why Architects Draw
Edward Robbins
1994
The Architecture Machine
Toward a More Human Environment
Nicholas Negroponte
1970
Soft Architecture Machines
Nicholas Negroponte
1976
The Architecture of Erik Gunnar Asplund
Stuart Wrede
1980
Gottfried Semper
In Search of Architecture
Wolfgang Herrmann
1984
Frank Lloyd Wright versus America
The 1930s
Donald Leslie Johnson
1990
Rebuilding Central Park
A Management and Restoration Plan
Elizabeth Barlow Rogers, Marianne Cramer, Judith L. Heinz, Bruce Kelly, Philip N. Winslow ve John Berendt
1987
The Staircase, Volume 1
History and Theories
John Templer
1992
The Staircase, Volume 2
Studies of Hazards, Falls, and Safer Design
John Templer
1992
Megalopolis
The Urbanized Northeastern Seaboard of the United States
Jean Gottmann
1964
Designing Paris
The Architecture of Duban, Labrouste Duc, and Vaudoyer
David Van Zanten
1987
Architecture in the Scandinavian Countries
Marion C. Donnelly
1991
Technics and Architecture
The Development of Materials and Systems for Building
Cecil D. Elliott
1992
Architecture, Poetry, and Number in the Royal Palace at Caserta
George L. Hersey
1983
Making A Middle Landscape
Peter G. Rowe
1991
Le Corbusier, the Noble Savage
Toward an Archaeology of Modernism
Adolf Max Vogt
1998
Survey of Architectural History in Cambridge, Second Edition
East Cambridge
Cambridge Historical Commission
1989
Survey of Architectural History in Cambridge, Volume 2
Mid-Cambridge
Cambridge Historical Commission
1967
Survey of Architectural History in Cambridge, Volume 3
Cambridgeport
Cambridge Historical Commission
1971
Survey of Architectural History in Cambridge, Volume 5
Northwest Cambridge
Cambridge Historical Commission
1977
Koleksiyon, Humanities Open Book Program'ın bir parçası olan Andrew W. Mellon Foundation ile National Endowment for the Humanities tarafından destekleniyor.