14 Aralık 2020
1159 defa okundu.
Graham Foundation'ın Tarafından Destek Verilen Projeler
Graham Foundation, günümüzün zorluklarına yanıt veren, disiplinler arasında yeni bağlantılar geliştiren ve mimarlık alanını genişleten projelere liderlik eden 36 uluslararası kuruluşa destek verdiğini duyurdu.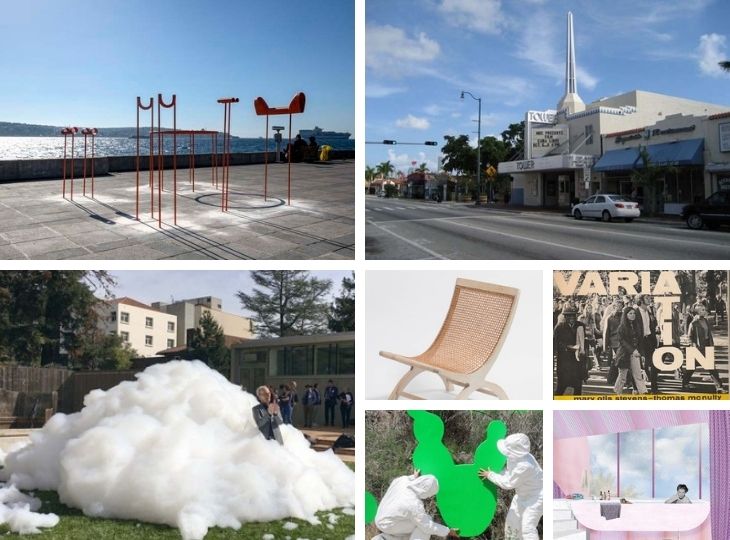 Destek verilen projeler arasında İstanbul, Londra, New Orleans, Philadelphia ve Chicago'da açılan ve açılacak olan sergiler; San Francisco, Paris, Mexico City, Montreal, Los Angeles, Prag, Salt Lake City ve Singapur'daki yayıncılar ve kurumlar tarafından hazırlanan yeni editoryal projeler, öğrenci liderliğindeki dergiler ve yaratıcı programlar yer alıyor.
Projeler arasında Pelin Tan ve Ute Meta Bauer'in mimar Mary Otis Stevens'in "World of Varioation" yayınını konu alan, önümüzdeki yıl MIT Press tarafından yayınlanacak kitap ile İKSV tarafından düzenlenen 5. İstanbul Tasarım Bienali de bulunuyor.
Sergiler
Acute Angles (Chicago)
Space p11: Interior Landscape Residencies and Exhibitions, 2021
Black Reconstruction Collective (New York)
Black Reconstruction Collective Manifesting Textile
Chicago Architecture Biennial (Chicago)
The Available City, 2021
Cranbrook Art Museum (Bloomfield Hills)
Olga de Amaral: To Weave a Rock
İstanbul Kültür ve Sanat Vakfı (İstanbul)
5. İstanbul Tasarım Bienali
The Museum of Modern Art (New York)
Reconstructions: Architecture and Blackness in America
Prospect New Orleans (New Orleans)
Prospect.5: Yesterday we said tomorrow
Queens Museum (New York)
After the Plaster Foundation, or, "Where can we live?"
The Renaissance Society (Chicago)
Haig Aivazian: All of the Light
Serpentine Galleries (Londra)
Serpentine Pavilion 2020–21 (Counterspace)
Storefront for Art and Architecture (New York)
Building Cycles 2
University of Chicago (Chicago)
YOU BE MY ALLY
University of Pennsylvania—Institute of Contemporary Art (Philadelphia)
Jessica Vaughn: Our Primary Focus Is To Be Successful
Film, Video, Yeni Medya Projeleri
The Architecture Lobby (Shaker Heights)
JustDesign
Hubbard Street Dance Chicago (Chicago)
The Sky Was Different
Kamusal Programlar
Association of Architecture Organizations (Chicago)
2020 Design Matters Conference: Radical Transformations
Open Architecture Chicago & The Trust for Public Land (Chicago)
The Urban Hack
Yayınlar
Canadian Centre for Architecture (Montreal)
CCA Singles
Concordia University Press (Montreal)
Clara Porset: Living Design
Dalhousie Architectural Press (Halifax)
Design Matters series: "Colonization Through Design" and "Situated Practices in Architecture and Politics"
Fenester (Prag)
Private Views: A High-Rise Panorama of Manhattan
The Funambulist (Paris)
The Funambulist Correspondents
Juan de la Cosa / John of the Thing (Mexico City)
Notebooks Series
Minerva Projects (Pine Plains)
Project 4: Rey Akdogan
NTU Centre for Contemporary Art (Singapur)
World of Variation, 1970/2020 — Revisiting the i Press Series on the Human Environment
Places Journal (San Francisco)
Critics-in-Residence in Architecture and Landscape Architecture
The Richard H. Driehaus Museum (Chicago)
Hector Guimard: Art Nouveau to Modernism
The Royal College of Art (Londra)
Offsetted
Society of Architectural Historians (Chicago)
Twenty Historically Contested Sites: Race and Ethnicity Shaping the Built Environment
University of Utah—School of Architecture (Salt Lake City)
Dialectic VIII: Subverting – Unmaking Architecture?
Öğrenci Liderliğindeki Yayınlar
Harvard University—Graduate School of Design (Cambridge)
New Geographies 12: Common
Paprika! (New Haven)
Paprika! Volume VI
Rice University—School of Architecture (Houston)
PLAT 10.0: Behold
University of California, Berkeley—Architecture Department (Berkeley)
Room One Thousand: Issue 9
University of California, Los Angeles—Department of Architecture and Urban Design (Los Angeles)
POOL, Issue No. 06
University of Illinois at Chicago—College of Architecture, Design, and the Arts (Chicago)
Fresh Meat Journal Issue XII: Finding Agency in Uncertainty
Projeleri buradan inceleyebilirsiniz.