3 September 2018
2782 defa okundu.
Tinker wins international design competition new Natural History Museum of Denmark
In 2022, an entirely new Natural History Museum will open its doors in Copenhagen. Dutch design agency Tinker imagineers won the international tender to design the new scenography for an area of almost 4.900 m2 netto. The exhibition budget is 22 million euros, and the collection consists of more than 14 million objects.
Our planet
Tinker will be responsible for the concept, design (3D, 2D and multimedia) and production supervision of the new exhibition. The central theme of the museum is "Our Planet", covering the entire history of our planet, from its creation to the present day. Visitors will see nature's great riches as well as the ways in which humankind has influenced the planet. Moreover, they will experience how they can contribute to a sustainable future for our Planet.
"We are incredibly honoured to have been selected for this job and that we have been given the opportunity to set up a completely new, contemporary museum. It is a clear sign that Dutch Design is doing well internationally." – Stan Boshouwers, Founding Partner, Tinker Imagineers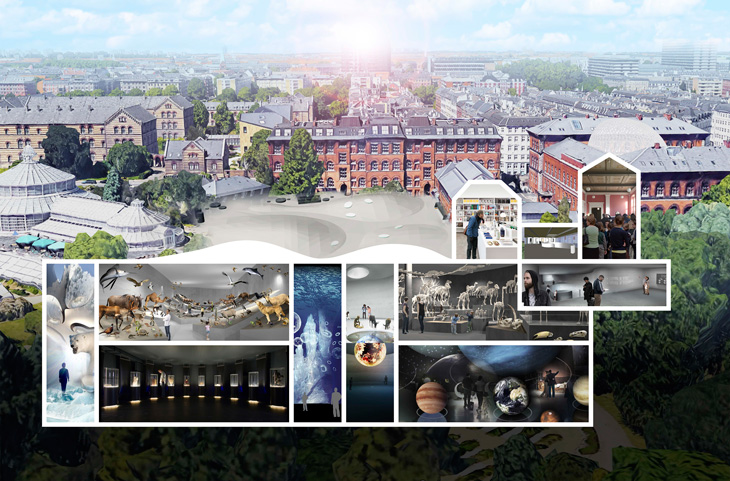 New museum
The Natural History of Denmark is the national museum of nature. Today the museum has three locations: The Botanical Garden, the Geological Museum, and the Zoological Museum. In 2022 they will all be merged into a new museum designed by Lundgaard & Tranberg Architects. The new museum will be situated in the Botanical Garden in Copenhagen:
"The role of natural history museums is changing and we have to think differently. We need to inspire, engage and enable people to enjoy, understand and care for the diversity of the natural world. With Tinker Imagineers we have found a perfect partner with a proven track record and capacity to realise our vision for an experience to empower visitors to make informed choices about a sustainable future for the planet." – Peter C. Kjærgaard, Museum Director, Natural History Museum of Denmark