6 November 2022
71 defa okundu.
Design District success continues with launch of new creative workspaces
Mole Architects' iridescent building adds more colour to increasingly dynamic creative ecosystem.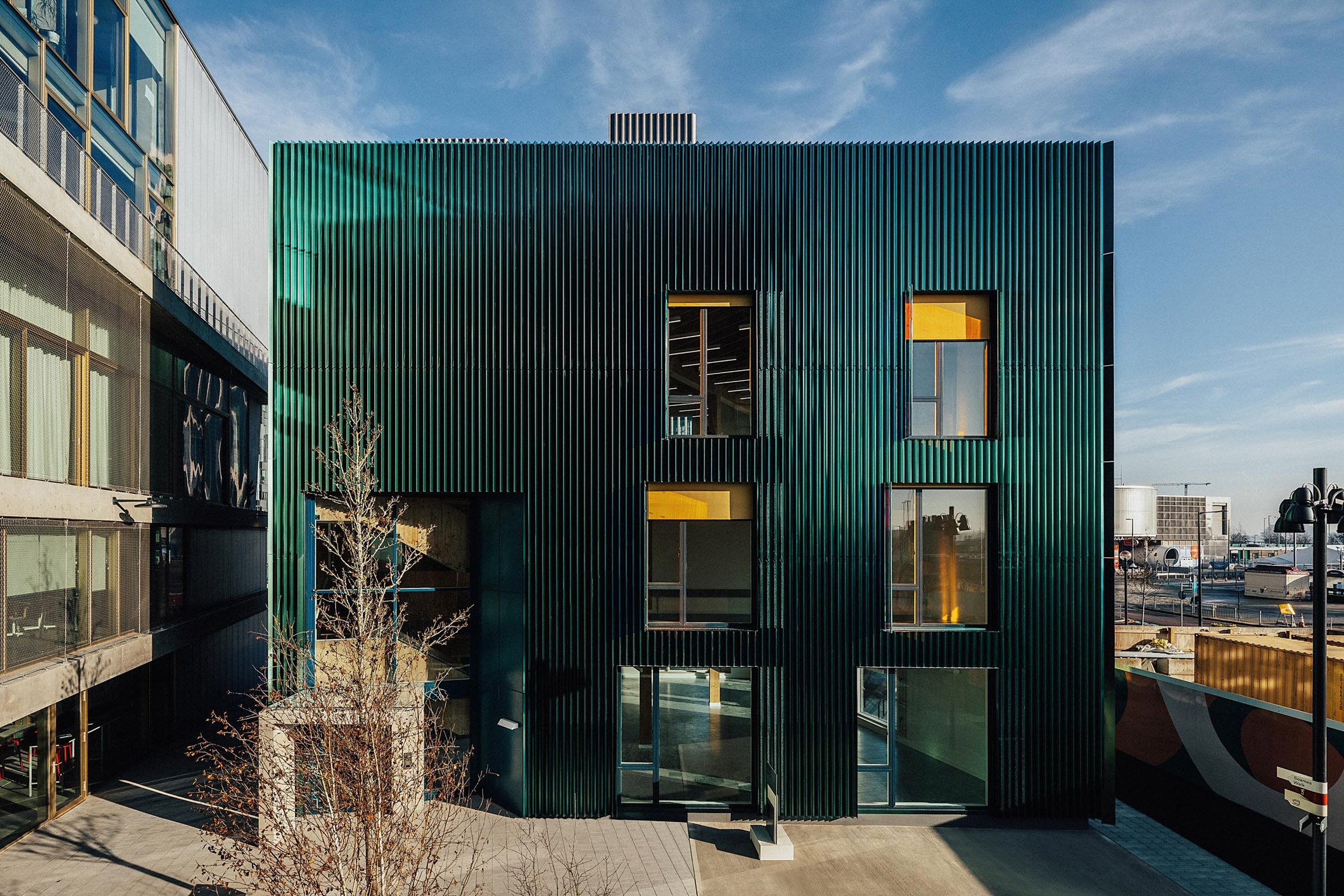 On Greenwich Peninsula, Design District's evolution continues with the opening of Mole Architects' second building, a striking and sustainable 580m2 rhomboid structure that seems to change colour as you move around it.
Designated D2, the new building's five workspaces are all now occupied, home to a brilliantly eclectic collection of creative businesses, spanning fashion, photography, cycling accessories and more – a reflection of the extraordinary disciplinary variety of Design District as a whole.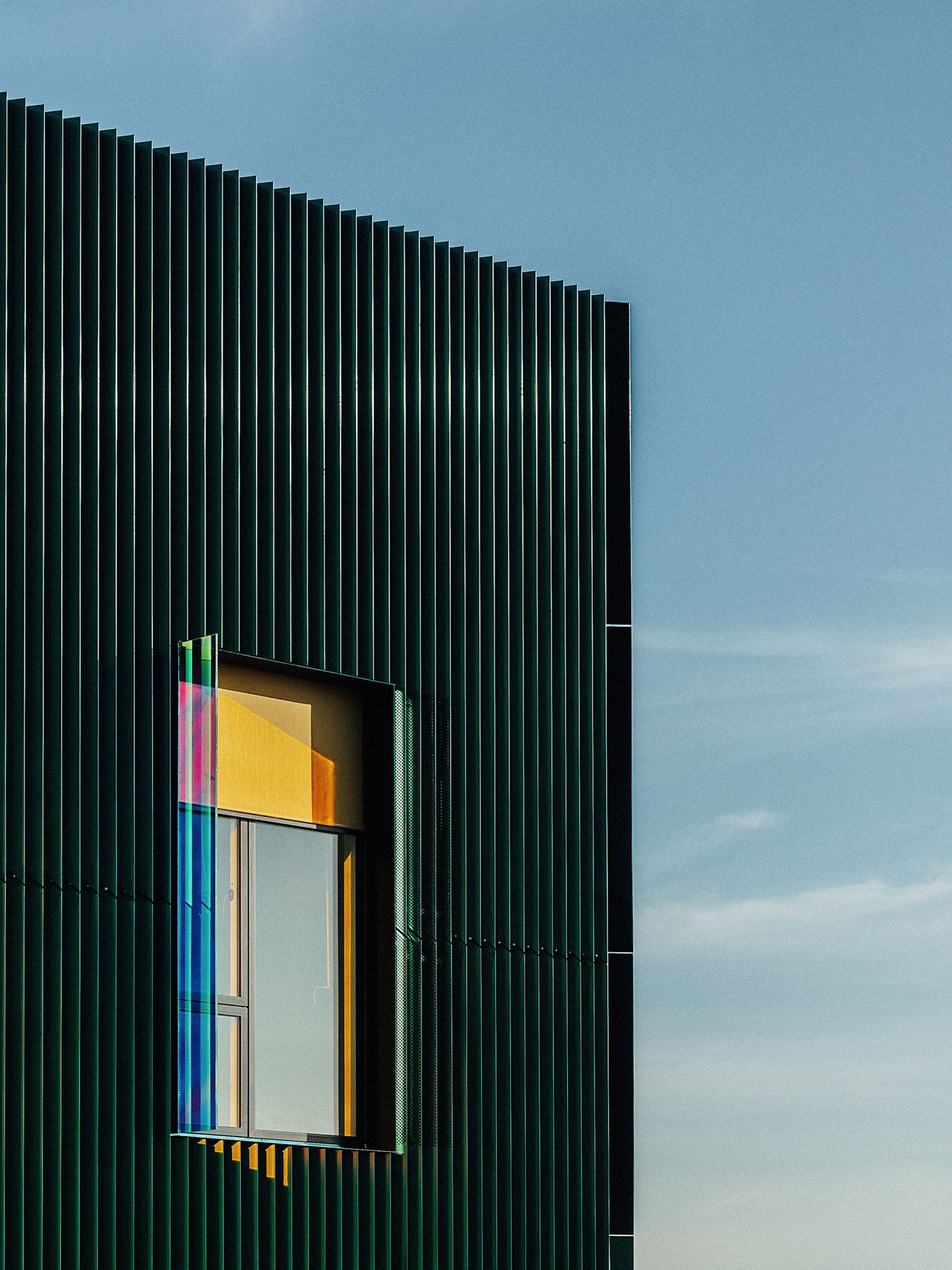 Following the official launch in September 2021, Design District is now well on the way to fulfilling its aim to serve as London's permanent home for the creative industries, and to support around 1,800 of the capital's creative-sector workers, at every stage in their careers.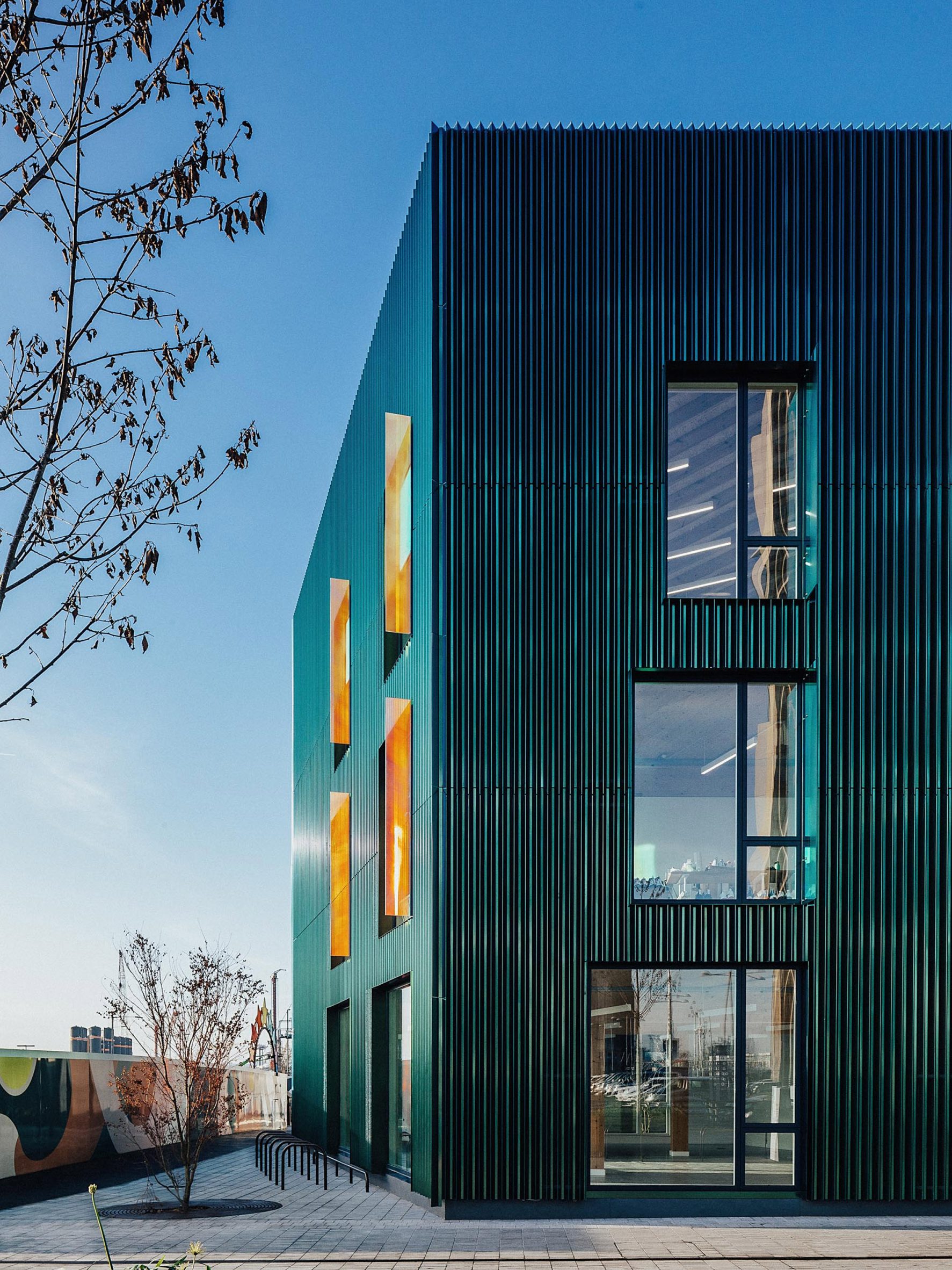 Comprising 16 buildings by eight pioneering architects, the district provides affordable spaces, comprehensive facilities and flexible leases. As of the end of Q1 2022, over 92% of its available space has been let to creative businesses – a testament to the district's success in offering a compelling proposition to companies and individuals returning to the workplace in the wake of the pandemic. Today, just 8% of Design District's plots remain available, comprising whole-building lets – smaller enterprises and individuals wishing to join the community can still do so via Bureau, the members' club and co-working space.
Since its launch, the district has become a thriving and dynamic creative hub, supporting everyone from students (of Ravensbourne University's Institute for Creativity and Technology) to freelancers based in Bureau through to larger businesses occupying versatile workspaces in the District's eclectic, architecturally progressive buildings. Its evolving creative ecosystem, encompassing a gloriously eclectic array of creative disciplines, from ceramic artists and fashion designers to dance companies and VR studios.
Now with the official launch of the new building, the most ambitious creative development in London meets another milestone, its thriving community receives a fresh injection of energy.
A colour-changing statement in sustainability
With D2, Mole Architects has taken the principles of sustainable timber architecture and created a head-turning statement building. Housing five workspaces over three storeys, D2 may be the smallest building of the 16 in the Design District masterplan but, with its iridescent metal exterior, it is impossible to overlook.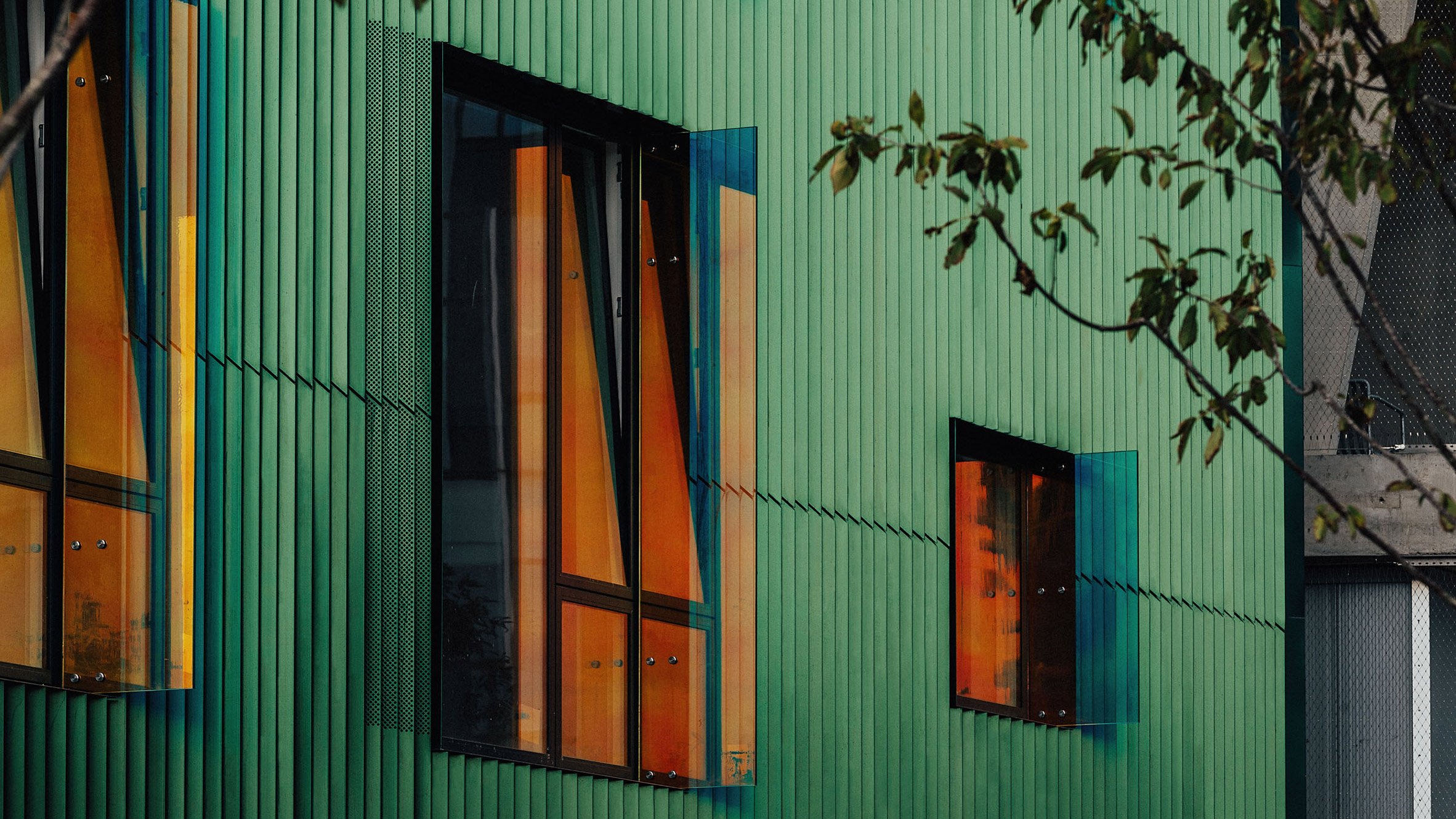 Mole Architects' first building for Design District, C2, is a striking square ziggurat clad in weathered CorTen steel that opens onto the central courtyard. Its newly complete counterpart, D2, is smaller, rhombus-shaped and positioned at the entrance point to the south-eastern corner of the district.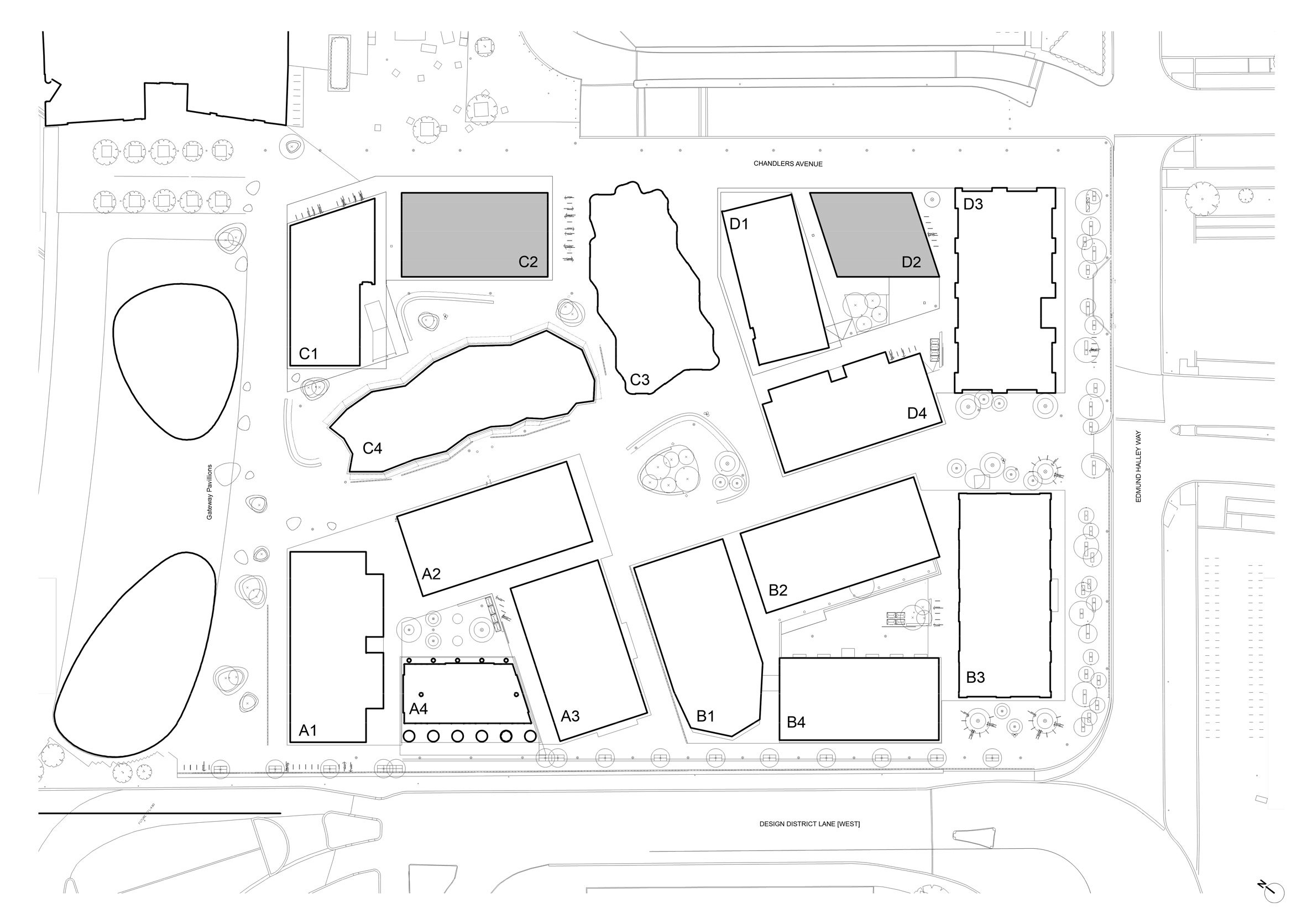 Together, the two buildings pay subtle visual tribute to Greenwich Peninsula's history as the home of what was once Europe's largest gasworks. With its rusty metallic exterior, C2 evokes the gasometers that once stood here. In contrast, the shimmering, colour-changing cladding of D2 conjures the shifting shades of a gas flame, seizing the attention whenever you glimpse its shimmer between the surrounding buildings.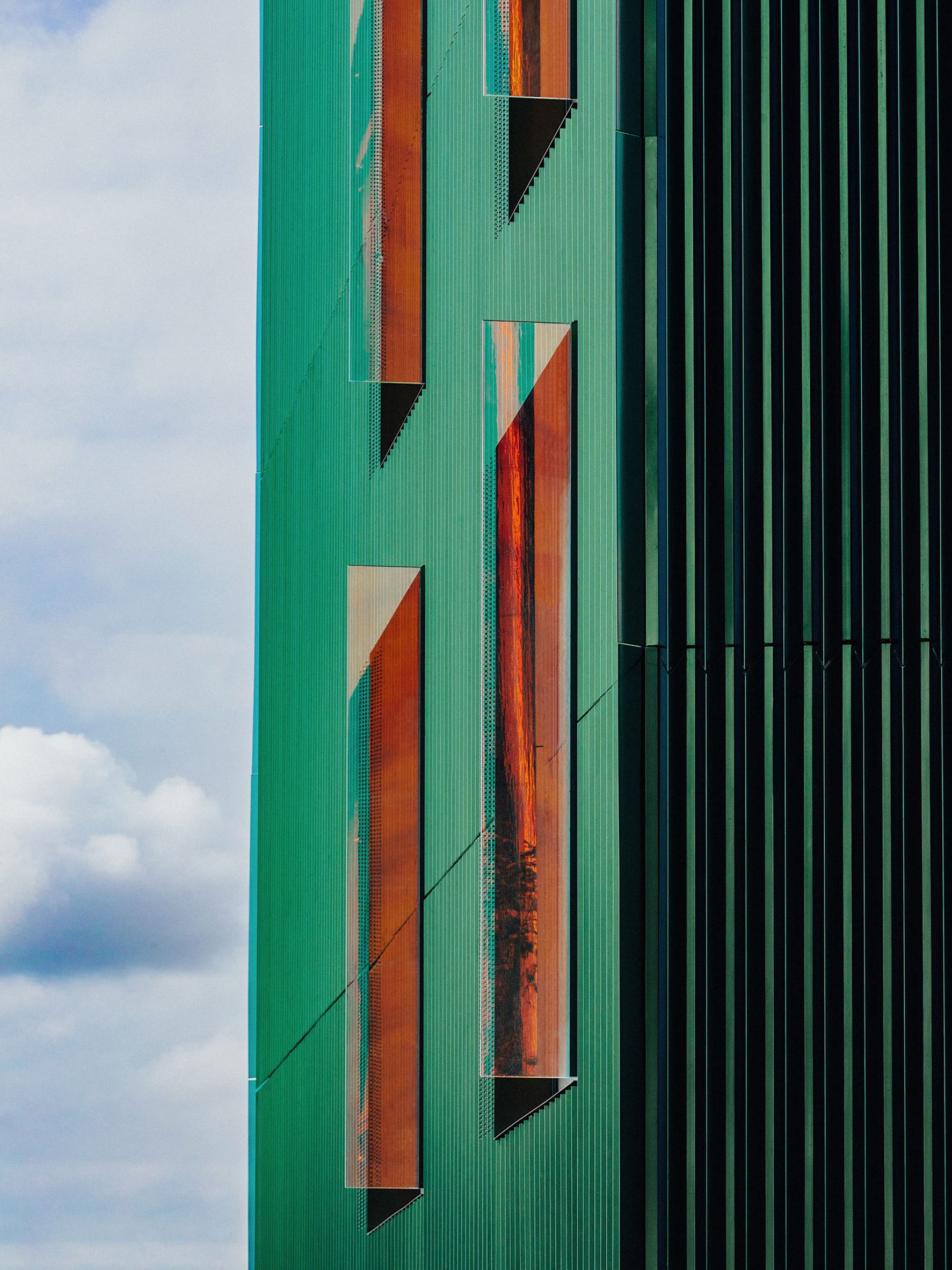 D2 is built from one of Mole Architects' signature materials – cross-laminated timber (CLT). As well as being practical and robust, CLT buildings demand approximately half the energy of concrete structures to build, and also act as carbon stores, locking CO2 into the fabric of the building.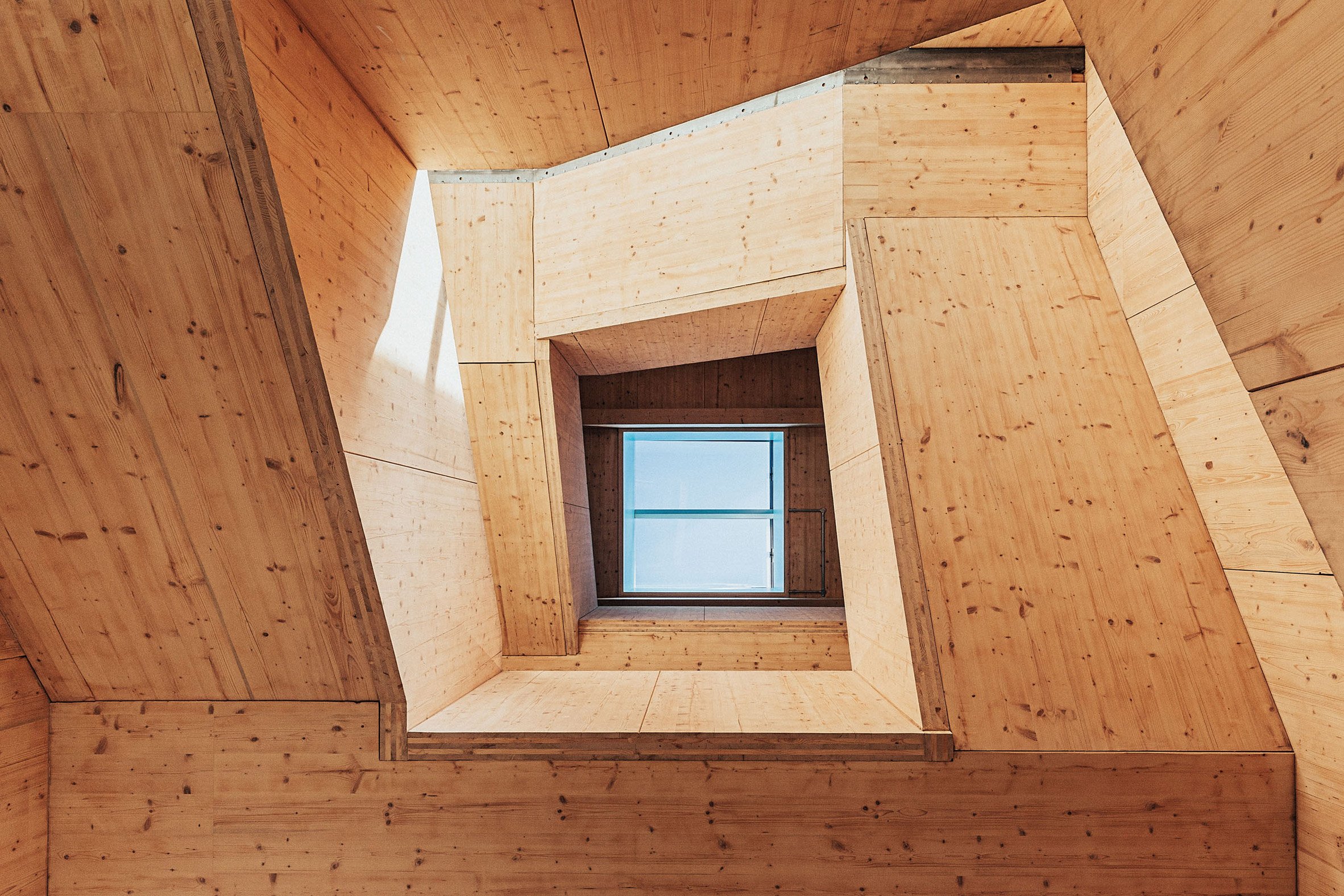 The structural timbers are left exposed on interior walls and stairs, which not only gives the space character, it also eliminates the need for additional finishing materials, and enables a quicker build programme.